Rechercher dans l'Agenda
Où ?
Quand ?
Du
Au
Quoi ?
Catégories
Recherche par mot-clé
Événements dans votre ville
Rechercher :
Changer de rubrique
Jusqu'au 22/01/2023
Museum der Kulturen Basel – Bâle Bâle
« Apprends à lâcher-prise, c'est la clé du bonheur. »
Siddharta Gautama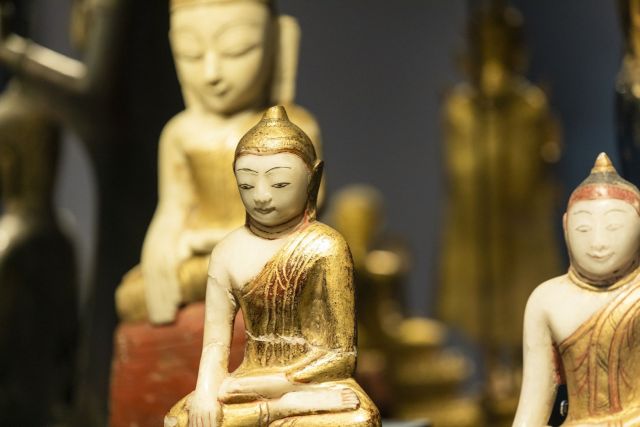 Différentes formes de bouddhas à découvrir au Museum der Kulturen à Bâle © DR
Puisque l'exposition « Illuminé – L'univers des bouddhas » suscite beaucoup d'intérêt, le Museum der Kulturen Basel la prolonge jusqu'au 22 janvier 2023.
Lorsque les visiteurs pénètrent dans la salle d'exposition, ils plongent dans un univers bleu nuit aux reflets dorés. Ils ne cessent de louer l'atmosphère méditative unique de l'exposition « Illuminé ». C'est l'une des raisons qui font de la rencontre avec plus de 50 bouddhas une expérience très particulière.
Les bouddhas sont des éléments de décoration très appréciés sous nos latitudes. Un bouddha est reconnaissable entre mille. Mais il n'y en a pas qu'un. C'est ce qui suscite l'intérêt du public : il veut savoir qui était le bouddha historique et s'émerveille devant les nombreux autres bouddhas.
L'exposition montre la diversité des sculptures de bouddhas et du bouddhisme. Ce dernier a une histoire de plus de 2 000 ans au fil de laquelle il a toujours su s'adapter aux conditions régionales.
Les objets aux multiples facettes de la collection du musée montrent la diversité du bouddhisme et des pratiques qui lui sont associées. Plus de 50 bouddhas attendent les visiteuses et visiteurs, qui découvrent les différentes manières de les représenter. Le tout se déroule dans une atmosphère méditative, qui offre le calme nécessaire pour admirer les quelque 280 objets et y réfléchir.

L'exposition "Illuminé – L'univers des bouddhas" met à l'honneur le bouddhisme © DR
On trouve de nombreux objets importants pour la pratique bouddhiste. Parmi elles, plusieurs pièces de la célèbre collection tibétaine de Gerd-Wolfgang Essen, qui ont attiré de nombreuses personnes, car il y a quatre décennies, en effet, cette collection avait été bénie par le Dalaï Lama, qui l'avait qualifiée de « précieux trésor ». Il estima en 2001 que présenter ces pièces contribuerait à préserver la culture tibétaine d'une disparition définitive.
En plus des objets de la collection du musée, on peut admirer des œuvres d'artistes contemporain.e.s.
Sanae Sakamoto transpose dans deux grandes calligraphies des notions issues de la pratique bouddhiste comme la tranquillité d'esprit ou la plénitude, tandis que Seoungho Cho recompose des éléments de rituels bouddhistes dans sa vidéo artistique « Scrumped ».

Tower of Babel (2009) de Sonam Dolma Brauen © DR
Dans « Yishen 42 », « Boomerang », « Tower of Babel » et « My Father's Death », Sonam Dolma Brauen lance un regard critique sur le lien entre religion et politique. Et Gonkar Gyatso montre dans « Shambala of Modern Times » la popularité croissante du bouddhisme en Occident et la transformation de la figure du Bouddha en une icône de la culture pop.

Les bouddhas ornent intérieurs, jardins et oasis de bien-être © DR
Pour en apprendre plus sur le bouddhisme et les bouddhas exposés, le Museum der Kulturen Basel propose un programme d'animations, composé de visites guidées et de méditations. Le détail de ces animations et le calendrier complet est à retrouver sur le site officiel du musée : mkb.ch
En guise de préparation à l'exposition ou dans le prolongement de celle-ci, les visiteurs ont la possibilité de découvrir en ligne le Digitorial « Illuminé » : erleuchtet.mkb.ch. Ce site nous explique comment Bouddha a pris son apparence.
www.mkb.ch
 – Facebook
Tarif d'entrée : CHF 16.-
Tarif réduit : CHF 11.-
Expositions
Art brut. Un dialogue singulier avec la Collection Würth
Musée Würth – Erstein
Lu. 24/10/22 – Di. 21/05/23
Expositions
Passé, présent, avenir d'œuvres récupérées en Allemagne en 1945 – Musées de S…
Palais Rohan
Sa. 22/10/22 – Lu. 15/05/23
Expositions
Exposition | Jouer est un art : les réserves se dévoilent
Musée du Jouet – Colmar
Me. 19/10/22 – Di. 1/10/23
Expositions
Exposition Michel Blazy, Six pieds sur terre – une exposition pour les pieds
Le Portique centre régional d'art contemporain du Havre – Le Havre
Sa. 1/10/22 – Di. 18/12/22
Expositions
Biennale d'art contemporain de Lyon 2022
Lyon
Me. 14/09/22 – Sa. 31/12/22
Expositions
Nanda Vigo, l'espace intérieur
Bordeaux
Je. 7/07/22 – Di. 8/01/23
Spectacles>Expositions
Messe Basel –Bâle
Art Basel, c'est la plus prestigieuse foire internationale d'art contemporain de Suisse. Elle attend quelques 90 000 visiteurs chaque année. Une occasion unique de prendre le pouls de la création contemporaine. À Art Basel, ça fourmille de […] Spectacles>Expositions
Musée Tinguely –Bâle
L'exposition collective Territories of Waste au Musée Tinguely aborde frontalement les questions de crise planétaire des déchets et cette propension à tout prendre comme une poubelle. L'exposition se déploie comme un paysage dans l'espace et […] Spectacles>Expositions
Musée historique de Bâle – Barfüsserkirche –Bâle
Le 10 juin, le Musée historique de Bâle inaugure dans la Barfüsserkirche l'exposition «Trinquer avec élégance – Argenterie baroque d'une collection bâloise». L'une des plus importantes collections privées d'objets baroques en argent de […] Manifestations & animations>Festival
Bâle
La Baloise Session est un festival international de musique qui se déroule chaque automne à Bâle, ville voisine de Huningue et Saint-Louis. Chaque année, des stars internationales s'y produisent pour des concerts d'exception. La programmation de ce festival bâlois a […] Manifestations & animations>Fête foraine
Bâle
La Basler Herbstmesse, ou Foire d'automne de Bâle, c'est la plus grande et plus vieille foire de Suisse avec de nombreux manèges pour toute la famille et pour faire le plein de sensations fortes ! Rendez-vous du 29 octobre au 13 novembre 2022 pour la 551ème édition […] Spectacles>Visite guidée
Museum der Kulturen Basel –Bâle
Pourquoi le bouddhisme est-il si populaire ? Quelles transformations et réinterprétations cet enseignement a-t-il subies au cours de son histoire plus que bimillénaire ? Lors de la visite guidée de l'exposition "Illuminé – L'univers des bouddhas", les […] Spectacles>Visite guidée
Museum der Kulturen Basel –Bâle
Elles ne tarderont pas à arriver : des cartes souhaitant de joyeuses fêtes. Les invités du vernissage découvriront dans l'exposition de Noël "Joyeuses fêtes !" les contextes de cette belle coutume qui se pratique dans le monde entier. Et la diversité […] Spectacles>Visite guidée
Museum der Kulturen Basel –Bâle
Les possibilités de création de cartes de vœux de Noël et du Nouvel An sont illimitées. Des motifs classiques et globaux coexistent avec des univers visuels locaux et religieux. La visite guidée montre ce qui a été approprié et les […] Tout l'agenda à Bâle
10 ballotins de 500g
Lire le magazine JDS
Chaque jeudi l'agenda du week-end !


Copyright 2008-2022 jds.fr
Recevez les meilleures idées sorties par notification web !
Aucun email requis.
Autoriser les notifications pour continuer.
Recevez les meilleures idées sorties par notification web !
Aucun email requis.
Une seconde fenêtre va s'ouvrir vous invitant à autoriser les notifications